The Elements of Yoga
11 March @ 10:30 am

-

12:00 pm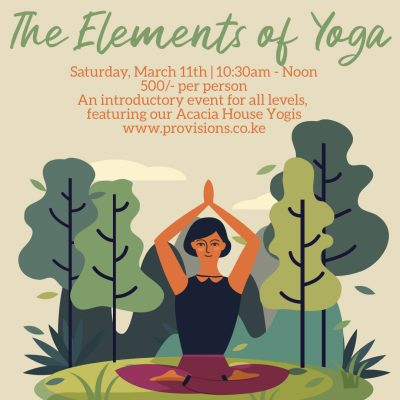 Join us for an introductory session for all levels of experience, open to ages 12 and older. This is a great opportunity to interact with and learn from our 4 yoga teachers at Acacia House. The event will flow through the 4 elements, encouraging you to breathe, move and experience a delightful morning in the garden. After the event, the teachers will host a tea meditation and be available for questions and discussion.
AIR: Sharon will start us off with an Air Element sequence that will harness the power of the breath to warm us up and get our Prana (vital energy) flowing through our body. As we move and connect with our breath, we will feel ourselves become calmer, lighter and ready for more movement.
EARTH: Nidhi will lead us into the Earth element to connect us with Mother Nature through our feet, to feel stable and energised. As we flow through the class we feel confident, grounded, and strong.
FIRE: Stoke your inner fire with a progressive power flow led by Mercy. You will strengthen your body with igniting poses and breath work, leaving you feeling strong and energetic.
WATER: We'll end the morning floating through the element of Water with Hetal in Savasana while brining in all the elements together through a guided meditation.
Space is limited, please book here to confirm, and then send payment as follows:
Paybill: 522522
Account: 6314808
Amount: 500/-