Revolutionary Coffee: Tasting
15 October, 2022 @ 1:00 pm

-

2:30 pm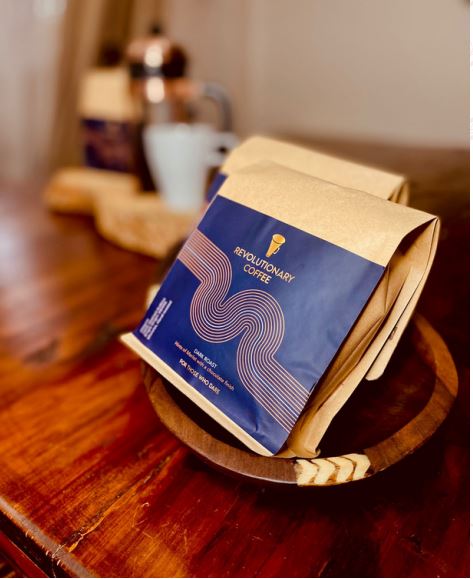 Revolutionary Coffee is a salute to the break from the status quo. It is a salute to courage, freedom, and change. With every sip you savour, we invite you to have a Revolutionary Day! Coffee for those who dare!
100% Arabica coffee ethically sourced and sustainably produced from the highlands of Kenya. Small batch coffee, that is carefully selected and expertly roasted to highlight the best in the specialty bean. Kenyan coffee is famed and prized for its unique and absolutely decadent flavour. We want everyone to taste this at home! The best is not only for export, it is also for the domestic market. We salute the farmers who put so much effort in cultivating this great cup and ensure they are fairly rewarded and recognised for their work. We deliberately source from women who are often left out as economic partners in the coffee supply chain.
About Revolutionary Coffee
So what does revolutionary have to do with coffee you may ask? For us it's a reminder of our history. We keep in mind that the growing of coffee in Kenya was once a tool of used to oppress economic opportunity for Africans. While our soils and earth offered up the prime nutrients that are needed to feed the growth of rich coffee berries, until 1951, Africans were not allowed to grow this crop, which in effect locked them out of the cash that it brought and the chance to lift themselves out of poverty. A revolution in law changed that and we honour that.
Wangeci Gitata-Kiriga, Founder
Wangeci has been influenced by the idea of revolution all her life. Stories of those who have fought and sacrificed for Africa have spurred her all her life. Maathai, Kimathi, Lumumba, Sankara, Shafiq inspire her each day. While her training is rooted in the law, her heart is rooted in the justice that it provides. Growing up on a coffee farm, she knows first hand the vulnerabilities of farmers but also the rewards that inclusive and fair systems can yield. Working with farmers for almost a decade in the Fairtrade system has deepened her appreciation of SDG 12 – sustainable production and consumption.