KaaHawa Therapy Session
17 December @ 10:30 am

-

12:30 pm

Free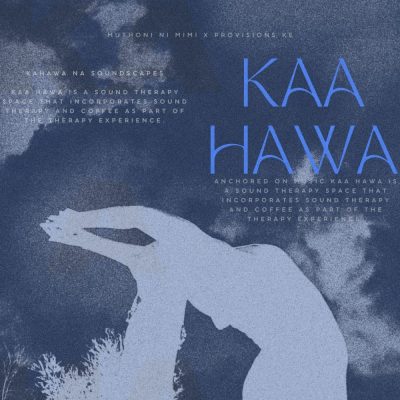 KAA HAWA is a sound therapy space that incorporates sound therapy and coffee as part of the therapy experience. The space as curated by Muthoni Ni Mimi, a soundscape and visual artist, is anchored on music both live and recorded and the creative process as a therapeutic practice. Our Healing sessions use music, visual arts (using coffee as a medium), breathwork and movement to facilitate healing. This approach allows one to open different modes of communication, allowing us to open up and engage with their lives experience in new ways.
Visual Art: In this part of the session we will paint a visual representation of our current state of being using coffee as a medium.
Soundscapes: In existing within music both live and recorded, we find solace. Our sessions are curated to act as a medium through which we find safety, love, understanding and care within ourselves.
Breathwork and Movement: Release and Grounding. How to remember to be.
The event fee is 1,650/- per person. Please sign up below and we will contact with you with the payment details.
About Muthoni:
I am an artist best recognized by their soundscapes and lyrical compositions and immersive installation art. I capture experiences through art. I create memories, lived experiences. I seek emersion. Living. Being. As a soundscape artist I express scenario's in the fullness of their auditory experience. I use live and recorded nature sounds from water, the city, farm to forest sounds, poetry, mantras, singing, and playing with frequencies as a way to hold a mirror to self and to society. To see and experience life in its fullness from the mundane to the super exciting. To simply be.