In Tune With Nature
21 January @ 4:30 pm

-

6:00 pm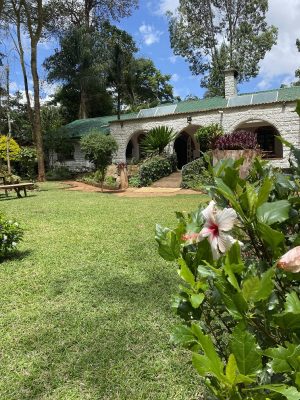 Join us for an afternoon in the garden with The Acacia Trio, a professional music ensemble based in Nairobi. Accompanying the talented soprano Cirũ James will be Philip Maina on Clarinet and Michael James on piano. The trio will perform a selection of engaging and eclectic mix of Classical, Jazz and Popular music for your enjoyment.
The event will begin *promptly* at 4:30pm, with a brief interval halfway. Afterwards, we invite you to mingle and enjoy a refreshing beverage and hors d'oeuvres in the garden.
TICKETS:
To confirm your ticket:
Paybill 522522
Account: 6314808
Amount: 4,000/- per person
About the Trio:
Cirũ James (soprano) studied singi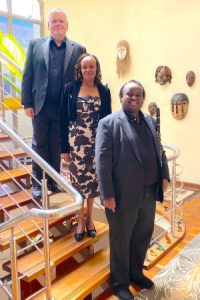 ng and piano at the Guildhall School of Music in London. She has an MMus from the Mannes College of Music in New York and has experience in singing a wide variety of opera, oratorio and concert repertoire. For many years, Cirũ taught Music and Performing Arts at secondary school level in the U.K. Since returning to Kenya, she has participated in various music projects. Her most recent role as Vocal Instructor for Baraka Opera Trust's Kenyan opera, Nyanga: Runaway Grandmother, gave her a unique and wonderful opportunity to vocally coach the diverse cast of up-and-coming, Kenyan classical singers. Cirũ is delighted to be performing concert repertoire once again, as she finds this genre especially fulfilling!
Philip Maina (clarinet) is a professional who performs and teaches in the Nairobi area. He has been teaching clarinet and saxophone for the past nine years and has performed in several events, including most recently Baraka Opera Trust's opera Nyanga: Runaway Grandmother in October 2021. He has also been an active member in the Nairobi orchestral scene, playing in several concerts for the Nairobi Orchestra and the Conservatoire Symphony Orchestra over the past decade. Philip is also a conductor and composer, having served as the Principal Conductor for the Conservatoire Symphony Orchestra from December 2016 to December 2019. He was also a member of the ScoKenDia Ensemble that performed at several events during the 2014 Commonwealth Games in Glasgow, Scotland. Philip has great reverence for orchestral music and for playing the clarinet and hopes to pass on his passion through his performances.
Michael James (piano). After studying Music in the UK, Michael moved to Nairobi and taught at Starehe Boys' Centre and at The International School of Kenya. At that time Michael was involved with the Nairobi Music Society, performing and conducting several works for them, including two of the Society's fully-staged productions: Mozart's The Marriage of Figaro and Beauty, a new music drama that he had composed. Michael returned to the UK and taught Music at Secondary and Sixth-Form level for several years while also continuing to perform and to compose extensively for the stage. Recently he wrote the incidental music to an award-winning production of The Mill on the Floss and to a children's version of The Tempest, which was staged in the world's oldest aquarium! Michael is delighted to be back again living in Nairobi and a short while ago he was fortunate enough to be Executive Producer for Nyanga: Runaway Grandmother, Baraka Opera Trust's latest opera.